The best of quality, traceability and logistics for the food industry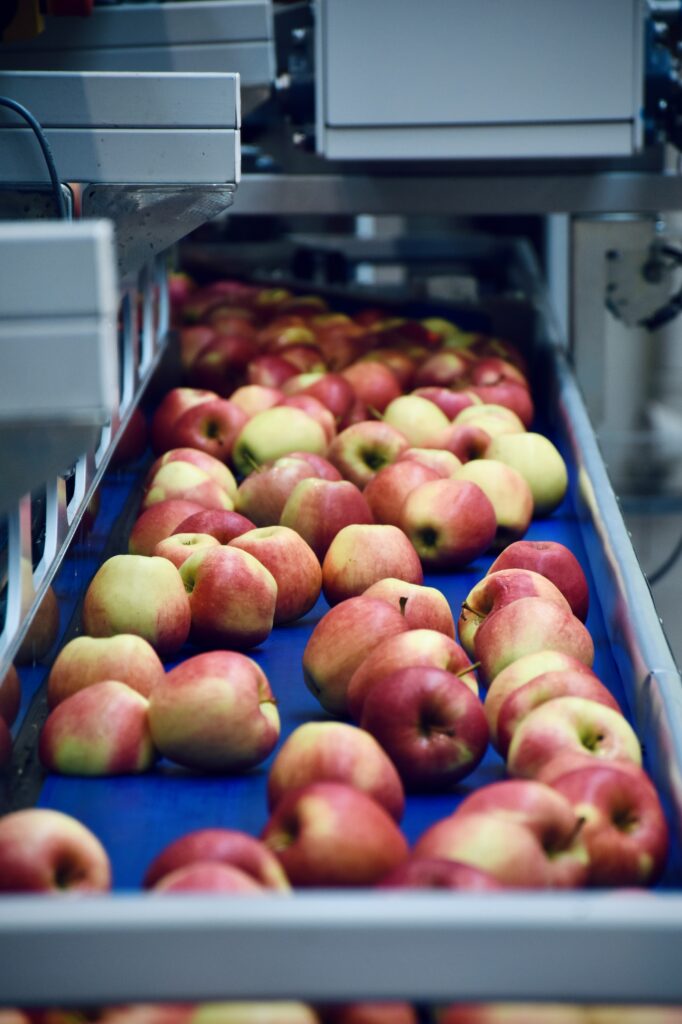 30 years of experience in food production and logistics
Versa has been involved with the food industry since its creation. 
Indeed, the specificities of the sector are inscribed in the DNA of our products. We intervene at all stages inherent to the food industry: quality, traceability and optimization from end to end in production and logistics while respecting sanitary standards. 
Depending on the regulatory constraints, we adapt in an agile manner in order to always meet your quality and traceability requirements. 
We are also able to control your production lines in real time, anticipate your fluctuations, correct deviations in real time and adapt your production lines to new rates. 
multi-sector for over 30 years
An in-depth knowledge of the different sectors! 
– Over 60% of the industry is a customer
– Management of the entire site from start to finish, from the arrival of trucks to the departure of products
– Management of the various workshops (cutting, etc.)
– Management of product handling
– Traceability from reception to dispatch
– Management of a cutting workshop
– Management of product handling
– Integration of the order preparation system
– Management of a cutting and boning workshop
– Management of packaging (roll and carton)
– Traceability of shipments
– Receiving, order picking and dispatch control for agricultural cooperatives
– Traceability and quality control 
– Complete management of a packaging workshop
– End-to-end traceability with respect to organic and AOC categories, etc.
– Dynamic storage
– Salmon process management (Reception, filleting, smoking, slicing)
– Product traceability
– Traceability of packaging and consumables
– Quality control
– Processed products sector
– Production management
– Traceability
– Management of shipping, order preparation
– Carton handling
– Stacker crane
– Optimisation of rejects and waste reprocessing
– Process control system for reception, pasteurisation and concentration
– Transitique
– Cheese factory supervision
For 30 years, close to the food industry
Quality, traceability and end-to-end optimisation in production and logistics in compliance with health standards
Food industry specificities included in the DNA of the products (use-by date, end-to-end traceability, etc.)
Real-time control of production and assembly lines
Anticipation of fluctuations
Real-time correction of deviations with their follow-up
Adaptation of production lines or revamping of obsolete automatisms
multi-sector for over 30 years
Production agility according to regulatory constraints
– More than 60% of the industry are customers
– Management of the entire site from start to finish, from the arrival of trucks to the departure of products
– Management of the various workshops (cutting, etc.)
– Management of product handling
– Traceability from reception to dispatch
– Management of a cutting workshop
– Management of product handling
– Integration of an order preparation system
– Management of a cutting and boning workshop
– Management of packaging (roll and carton)
– Traceability of shipments
– Reception, order preparation and dispatch control for agricultural cooperatives
– Traceability and quality control 
– Complete management of a packaging workshop
– End-to-end traceability in compliance with organic and AOC categories, etc.
– Dynamic storage
– Salmon process management (Reception, filleting, smoking, slicing)
– Product traceability
– Traceability of packaging and consumables
– Quality control
– Processed products sector
– Production management
– Traceability
– Management of shipping, order preparation
– Carton handling
– Stacker crane
– Optimisation of rejects and waste reprocessing
– Process control system for reception, pasteurisation and concentration
– Transitique
– Cheese factory supervision