For 30 years, working closely with the food processing industry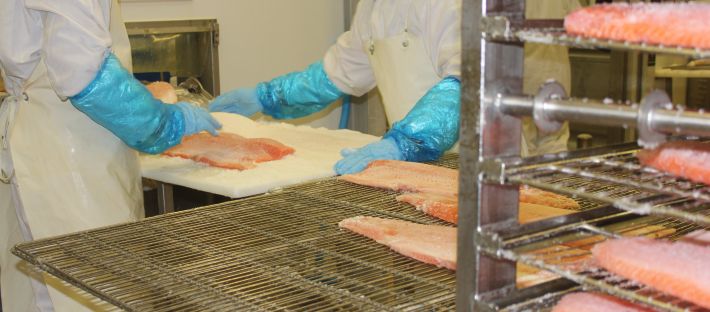 Quality, traceability and end-to-end optimisation in production and logistics in compliance with health standards
Specificities of the food industry included in the DNA of our products (CSD, end-to-end traceability, …)
Real-time control of production lines, including disassembly and assembly for each phase
Anticipation of fluctuations
Real-time correction of discrepancies with their follow-up
Adaptation of production lines to new rates or partial or total revamping of obsolete automatisms
MULTI-SECTOR FOR MORE THAN 30 YEARS
Agility of production according to regulatory constraints
– More than 60% of the sector is a customer
– End-to-end management of the entire site from the arrival of the lorries to the departure of the products
– Management of the different workshops (Cutting, …)
– Product flow management
– Traceability from reception to dispatch
– Management of a cutting workshop
– Product flow management
– Integration of the order picking system
– Management of a cutting and boning workshop
– Packaging management (roll and carton)
– Traceability of shipments
– Reception control, order preparation and dispatch for agricultural cooperatives
– Traceability and quality control
– Complete management of a packaging workshop
– End-to-end traceability respecting organic, AOC, etc. categories.
– Dynamic storage
– Management of the salmon process (reception, filleting, smoking, slicing)
– Product traceability
– Traceability of packaging and consumables
– Quality
– Processed products sector
– Production management
– Traceability
– Shipping management, order preparation
– Cardboard transition
– Storage and retrieval machine
– Optimisation of the reprocessing of rejects and waste
– Control system for reception, pasteurisation and concentration processes.
– Transitique
– Cheese supervision
Depuis 30 ans, au plus près de l'industrie agro-alimentaire
Qualité, traçabilité et optimisation de bout en bout en production et loogistique en respectant les normes sanitaires;
Spéficités de l'agro-alimentaire incluses dans l'ADN des produits (DLC, Traçabilité de bout en bout, …)
Pilotage en temps réel des lignes de production et d'assemblage
Anticipation des fluctations
Correction en temps réel des écarts avec leur suivi
Adaptation des lignes de production ou Revamping des automatismes obsolètes
multi-secteurs dePUIS plus de 30 ans
Agilité de la production en fonction des contraintes règlementaires
– Plus de 60% de la filière sont clients
– Pilotage de l'ensemble du site de bout en bout de l'arrivée des camions au départ des produits
– Gestion des différents ateliers (Découpe, …)
– Gestion de la transitique produits
– Traçabilité de la réception aux expéditions
– Gestion d'un atelier de découpe
– Gestion de la transitique produits
– Intégration d'un système de préparation de commande
– Gestion d'un atelier de découpe et de désossage
– Gestion du conditionnement (roll et carton)
– Traçabilité des expéditions
– Contrôle réception, préparation commande et expédition de coopératives agricoles
– Traçabilité et contrôle qualité et
– Gestion complète d'un atelier de conditionnement
– Traçabilité
– Stockage dynamique
– Gestion du process saumon (Réception, filetage, fumage, tranchage)
– Traçabilité produits
– Traçabilité des emballages et consommables
– Qualité
– Filière Produits élaborés
– Gestion de la production
– Traçabilité
– Gestion Expédition, Préparation de commande
– Transitique cartons
– Transstockeur
– Optimisation du retraitement des rejets et déchets
– Système de contrôle commande sur process de réception, pasteurisation, concentration.
– Transitique
– Supervision fromagerie