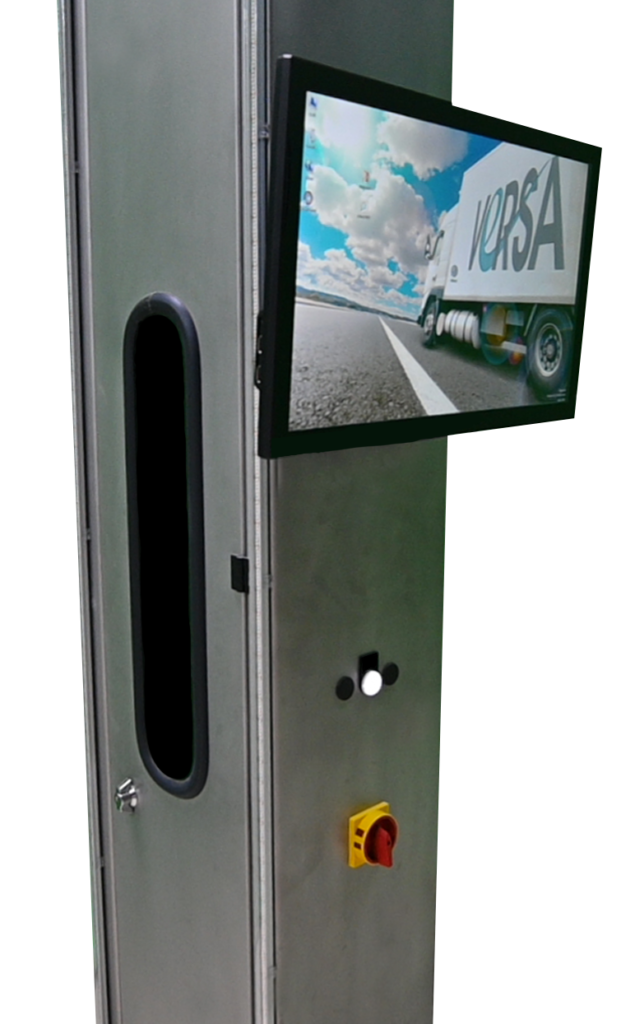 Your automated control solution for detailed pallet preparation and reception
Identify in real time 100% of the packages on a pallet thanks to the Pallet Gate for guaranteed traceability and quality!
Why choose
VERSA Pallet Gate ?
Are you looking for a solution to optimize your goods flow? 
VERSA Pallet Gate is for you! 
VERSA Pallet Gate,
how does it work?
The advantages of VERSA Pallet Gate. 
Free up your teams' time: a few seconds to identify the packages on one or more pallets instead of several minutes for operators who have to stretch or kneel several hundred times a day. 
Reduce the time needed to check packages by 5 on average. 
Your business is no longer dependent on recruitment. 
Always have a detailed view of your goods movements in real time and be sure of your shipments to the nearest package or item. 
Divide your disputes thanks to the quality control integrated in VERSA Pallet Gate: automatic calculation of quality indices, conformity, palletization, DLC and… much more. 
lus dépendante des recrutements.
Ayez toujours en temps réel une vue détaillée de vos mouvements marchandises et soyez certains de vos envois au colis près ou à l'article près.
Divisez vos litiges grâce au contrôle qualité intégré dans VERSA Pallet Gate : calcul automatique des indices de qualité, de conformité, de palletisation, DLC et… bien plus.
La VERSA Pallet Gate
that suits you! !
With VERSA Pallet Gate, there are several options for a product that suits you: 
Option 1D 
Option 2D 
Quality option 
From order picking to the entire supply chain
to control and track packages on Pallet
Identifies and declares parcels of one or more pallets in a few seconds instead of the usual several minutes
Declares in real time the movements in packaging or in stock
Detects errors (Intruders, Unread)
Guarantees quality controls
Automatically calculates the quality indexes (Conformity of articles, batches, rounds, variable weights, DLC, …)
ROI less than 12 months
Reduction in parcel inspection time and associated staffing levels (usually divided by more than 5)
VERSA-Portal to securely house quality proofs of palletisation 
Smoothes the flow of goods without increasing staff numbers or investments 
Ensures 100% conformity of the pallets shipped
100% of labelled packages are high frequency traced
Identifies and declares packages from one or more pallets in seconds instead of the usual several minutes
Declares in real time the movements in packaging or in stock
Detects errors (Intruders, unreads)
Ensures quality control
Automatically calculates quality indices (conformity of articles, batches, rounds, variable weights, shelf life, etc.)
ROI less than 12 months
Reduction of package inspection time and associated manpower (usually divided by more than 5)
VERSA-Portal for securely storing proof of pallet quality
Smoothes the flow of goods without increasing the number of employees or investments 
Ensures 100% compliance of shipped pallets 
From order picking to the entire supply chain