Consulting – Integration
Automatism
Industry 4.0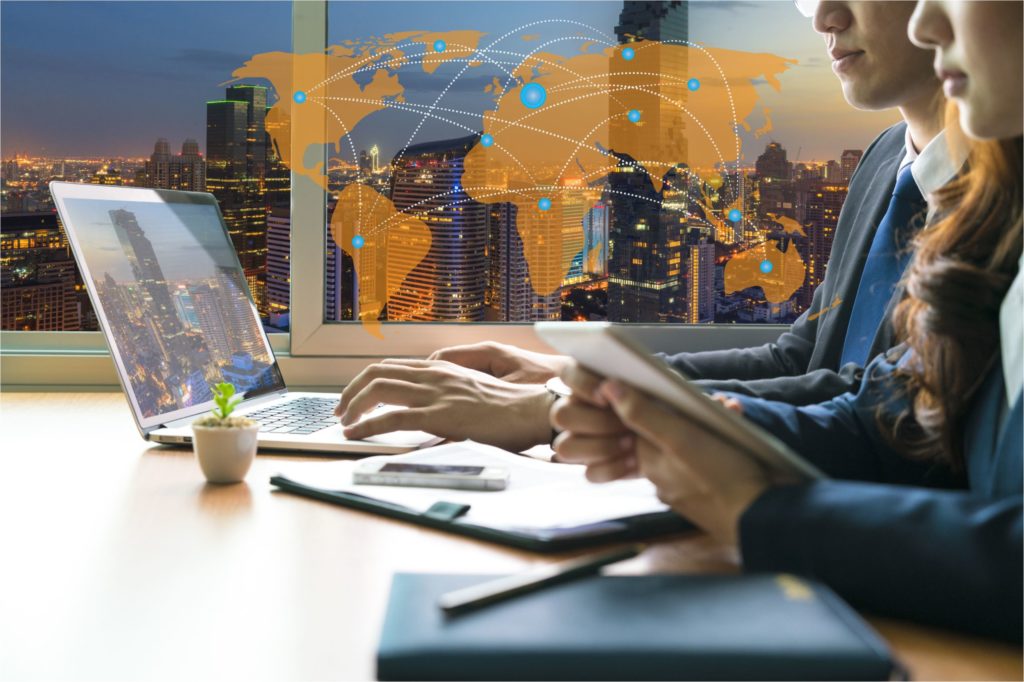 Consulting Integration in Automation and Industry 4.0 Industrial computing
MODERNISATION OF INDUSTRIAL IT
Complete digitisation of production lines
Specific solutions for workshop problems
Development of user-friendly and ergonomic interfaces according to workstations
Integration of real-time sensors aligned to the functional need: shape, volume, recognition, vision, probe, etc.      
      
MODERNISATION OF PROCESS AUTOMATION
Revamping
Real-time quality monitoring system
Supervision
Control and command system
Automation project management
Carton / bin handling: Conveyors, sorters, lifts, dynamic storage, palletisers, etc. élévateurs, Stockage dynamique, Palettiseur


Consulting & Integration
In Industrial Computing and Automation
– Depending on your growing needs for production flexibility, VERSA Conseil Intégration studies and carries out all operations to replace old or obsolete technology automation systems with modern, long-lasting solutions.
– Over the years of intervention, we have acquired rare experience in this type of operation.
– The migration is carried out in very short periods of time so as not to disrupt production.
Replacement of an emptying/receiving system in a dairy plant
800 digital and analogue inputs and outputs wired on obsolete control system migrated to a TSX Premium+ PLC system supervision Monitor, plant downtime: 16 hours.
Another example of Mission
Replacement of a mechanised order preparation system (carousel for distributing cartons to composting stations), poultry sector.
Replacement of the automation system, implementation of the new computerised control system, interface with the existing ERP.
Operation carried out over a weekend, the operators used the old system until Saturday 1 p.m. and started with the new system on Monday morning.
We diagnose :
– A pre-study allows us to define an architecture composed of PLCs and supervision stations.
– The functional analysis defines the organisation of the PLC programs and the functionalities of the supervisors.
We ensure project management and on-site commissioning:
– wiring
– input/output testing
– blank tests
– performance verification
– operational assistance
We carry out a transfer of skills to the users.
VERSA designs and implements control systems for manufacturing processes in continuous or batch mode:
- Programming on the main PLCs on the market
- Development on the most widely used supervision software
- Real-time interfacing
- Transition: Conveyors, sorters/sharpeners, lifts (control and supervision of Interroll Crossbelt Sorter high speed: 2x 6000 boxes/hour)
- High-speed in-line relabelling solution for single parcels from the picking process
- Dynamic storage, Palletizer
- Control of industrial peripherals: Industrial scales, RFID, Barcode readers, Printing equipment - labelling machines, Instrumentation equipment: Sensors, regulators, probes..., Industrial terminals / Operators
VERSA workshop solutions control the real-time flow of data between production machines and management IT.
Our specific developments are based on a business approach in addition to the software and hardware packages already present in the workshop and VERSA carries out :
– Study / Design
– Realization
– Setting up workstations and operational automatisms linked to industrial and management information technology
– Maintenance
- Creation of reactive, user-friendly, ergonomic and customised HMIs according to the requirements of the workstation
- Traceability, performance monitoring, deviation monitoring, TRS
- Integration of standard, high-tech equipment adapted to harsh workshop environments (printing equipment, labelling machines, industrial scales, weight/price groups, pocket PCs, touch PCs, RFID, barcode readers, Wifi solutions, etc.).
- Interfacing of data flows between workshop IT and management IT (ERP/WMS system)
- Real-time interfacing with PLCs
- Process supervision
- Control of industrial equipment
- Traceability
- Technical assistance
- User training
– Programming of the main PLCs on the market: Schneider, Siemens…
– Integration of standard, high-tech equipment, adapted to harsh workshop environments
– Peripherals integration and control (barcode readers, RFID, weight/price group, operator terminals)
– Barcode readers (Sick, Datalogic, Motorola, Symbol, Leuze …)
– Instrumentation equipment: Sensors, regulators, probes…
– Industrial terminals / Operators (Magelis, Pro-face, Siemens…)
– Printing equipment – labelling machines (Intermec, Zebra, Tec…)
– Industrial Scales (Mettler, Precia, Exa, Sartorius…)
– Weight/price groups (Bizerba, Bilanciai, Espera, Delford…)
– Touchscreen PC (Ealtec…)
– RFID 
Conseil – Intégration
Automatisme
Industrie 4.0
– En fonction de vos besoins croissants de flexibilité de production, VERSA Conseil Intégration  étudie et réalise toutes opérations de remplacement d'automatisme de technologie ancienne ou obsolète vers des solutions modernes et pérennes.
– Au cours des années d'intervention, a été acquise une rare dans ce type d'opérations.
– La migration s'effectue dans des laps de temps très courts de façon à ne pas perturber la production.
Remplacement d'un système de dépotage–réception dans une laiterie
800 entrées et sorties logiques et analogiques câblées sur système de contrôle commande obsolète migrées vers un système automate TSX Premium+ supervision Monitor, temps d'arrêt de l'installation : 16 heures.
Remplacement d'un système mécanisé de préparation de commande (carrousel de distribution de cartons vers postes de compostage), filière volaille.
Echange de l'automatisme, mise en place du nouveau système de pilotage informatisé, interface avec l'ERP existant.
Opération effectuée durant un week-end, les opérateurs ont utilisé l'ancien système jusqu'au samedi 13 heures et ont démarré avec le nouveau système le lundi matin.
Nous diagnostiquons :
– Une pré-étude permet de définir une architecture composée d'automates et de postes de supervision.
– L'analyse fonctionnelle définit l'organisation des programmes automates et les fonctionnalités des superviseurs.
Nous assurons le management de projets et la mise en service sur site :
– câblage
– tests des entrées/sorties
– essais à blanc
– vérification des performances
– assistance à l'exploitation
Nous effectuons un transfert de compétences vers les utilisateurs.
VERSA conçoit et met en oeuvre des systèmes de contrôle commande pour des process de fabrication en mode continu ou en mode batch :
- Programmation sur les principaux automates du marché
- Développement sur logiciels de supervision les plus répandus
- Interfaçage temps réel
- Transitique : Convoyeurs, trieurs/aiguilleurs, élévateurs (pilotage et supervision Trieur Crossbelt Interroll haute cadence : 2x 6000 cartons/heure)
- Solution de réétiquetage en ligne haute cadence des colis unitaire issu du picking
- Stockage dynamique, Palettiseur
- Pilotage de périphériques industriels : Balances Industrielles, RFID, Lecteurs code barre, Matériels d'impression – étiqueteuses, Matériels d'instrumentation : Capteurs, régulateurs, sondes…, Terminaux industriels / Opérateurs
Les solutions d'atelier VERSA maîtrisent le flux en temps réel des données entre les machines de production et l'informatique de gestion.
Nos développements spécifiques sont basés sur une approche métier en complément des progiciels et matériels déjà présents dans l'atelier et VERSA réalise :
– Etude / Conception
– Réalisation
– Mise en place des postes de travail et autmatismes opérationnels liés à l'informatique industrielle et de gestion
– Maintenance
- Création d'IHM réactives, conviviales, ergonomiques et personnalisées selon les exigences du poste de travail
- Traçabilité, Suivi de performance, des écarts, TRS
- Intégration de matériels standards, de haute technologie, adaptés aux environnements sévères d'atelier (matériels d'impression, étiqueteuses, balances industrielles, groupes poids/prix, pocket PC, PC tactile, RFID, lecteurs code-barre, solutions Wifi…)
- Interfaçage des flux de données entre l'informatique d'atelier et l'informatique de gestion (système ERP/WMS)
- Interfaçage temps réel avec automates
- Supervision de process
- Pilotage d'équipements industriels
- Traçabilité
- Assistance technique
- Formation des utilisateurs
– Programmation des principaux automates du marché : Schneider, Siemens…
– Intégration de matériels standards, de haute technologie, adaptés aux environnements sévères d'atelier
– Intégration et pilotage périphériques (lecteurs code barre, RFID, groupe poids/prix, terminaux opérateurs)
– Lecteurs code barre (Sick, Datalogic, Motorola, Symbol, Leuze …)
– Matériels d'instrumentation : Capteurs, régulateurs, sondes…
– Terminaux industriels / Opérateurs (Magelis, Pro-face, Siemens…)
– Matériels d'impression – étiqueteuses (Intermec, Zebra, Tec…)
– Balances Industrielles (Mettler, Precia, Exa, Sartorius…)
– Groupes poids/prix (Bizerba, Bilanciai, Espera,  Delford…)
– PC tactile (Ealtec…)
– RFID