Streamline the distribution of goods by automating traceability and quality monitoring.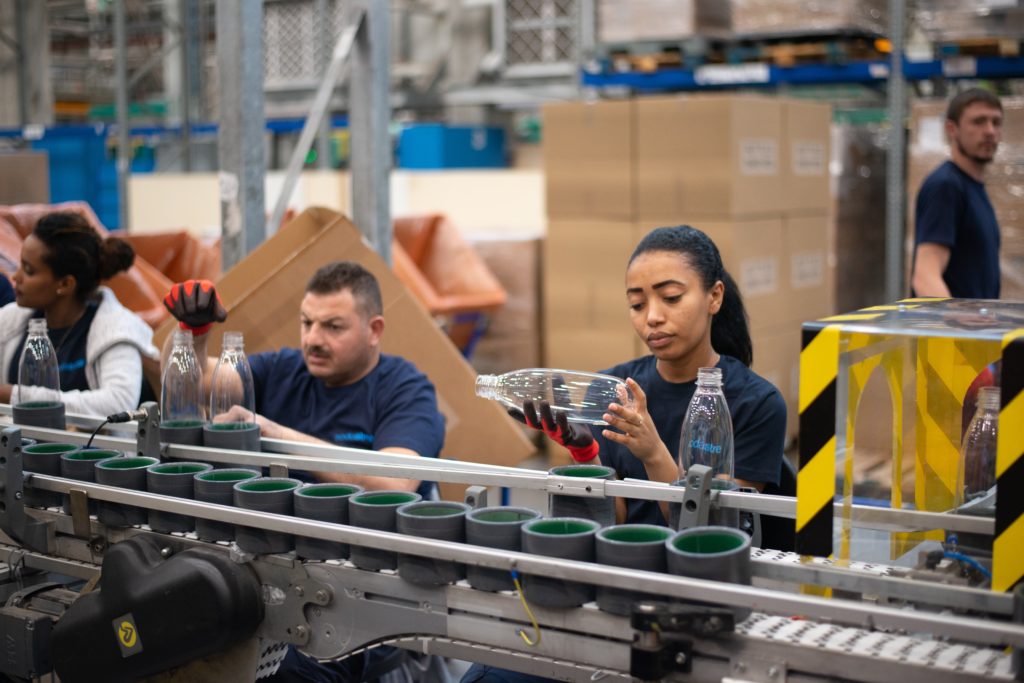 Quality, traceability and end-to-end optimisation of the supply chain in compliance with regulatory standards
Traceability and quality control are automated from start to finish.
In the food industry, control of compliance with health rules and requirements
Proof of quality
Smooth flow of goods
Control of compliance with orders and dispatches
Dynamic allocation of resources in reception, order preparation and loading
Decrease in trailer dock times
Optimising peak load management phases
Eliminates costly checking and flashing times at each stage
Automatic checks in a few seconds of orders, conformity, contracts, returns, DLC, etc… by instant reading of the codes of goods, parcels, pallets, etc…
Traceability to the parcel or even to the article
The end of the long times to deal with disputes
Traceability to the SSCC, to the batch number, or to the article at all levels of the process :
– Pallet check on receipt
– Pallet inspection at stock entry / packaging exit
– Pallet control in order preparation / picking
– Pallet check before dispatch
Guarantees :
– The right goods in the right package
– Good parcels associated with good orders and pallets
– Good pallets and goods at destination : warehouse, trailer, truck, container, etc.
MULTI-SECTOR FOR MORE THAN 30 YEARS
Supply chain and logistics agility according to regulatory constraints
– Automatic pallet reception and checks without stopping the driver
– Automatic checking of parcels on pallets
– No more paper for the administrative phases of unloading and dock management
– Integrated systems for every configuration : transition/conveyor, filming machine, in a doorway…
– Real-time exchanges with the various ERPs, WMS, TMS, after-sales service, order preparation and stock entry applications : Dynamics, SAP, Sage X3, internal Agrostar ERP under AS400, Infologic, Vif, etc…
– Dynamic quality control (DLC, DLUO, Dimensions,…)
– Loading of pallets and containers without loss of flashing time or stopping of the driver.
– Quality control of the labels and the condition of the cartons before departure
– No paper for the administrative phases of loading and dock management
– Automatic pre-checking of parcels on pallets
– Automation of quality controls
– Formalisation with multimedia proof of exchanges
– Agility for flow increases without a strong increase in subcontracting
– Real time monitoring
– Multimedia evidence to eradicate litigation
– Follow-up of conformity/orders, date contracts, returns, CSD, palletisation scheme
– Reduced need for square metres to prepare virtual trailers
– Optimisation of square metres
Fluidifiez les circuits de marchandises, en automatisant la traçabilité, et le suvi qualité
Qualité, traçabilité et optimisation de bout en bout en production et loogistique en respectant les normes sanitaires;
Traçabilité et contrôle qualité sont automatisés de bout en bout
Dans l'alimentaire contrôle du respect des règles et exigences sanitaires
Preuve qualité
Fluidité des flux de marchandise
Contrôle de respects des commandes et des envois
Allocation dynamique des ressources en réception, préparation de commande, et chargement
Diminution des temps de remorques à quai
Optimiser des phases de gestion des pics de charge
Suppression des temps coûteux de contrôle et de flashage à chaque étape
 Contrôles automatiques en quelques secondes des commandes, conformités, contrats, retours, DLC, etc.. par lecture instantanée des codes marchandise, colis, palettes
Traçabilité au colis voire à l'article
La fin des temps longs pour traiter les litiges
Traçabilité au SSCC, au numéro de lot, ou à l'article à tous les niveaux du process :
– contrôle palette à réception
– contrôle palette en entrée de stock / sortie conditionnement
– contrôle palette en préparation de commande / picking
– contrôle palette avant expédition
La garantie de :
– la bonne marchandise dans le bon colis
– les bons colis associés aux bonnes commandes et palettes
– les bonnes palettes et marchandises à destination : entrepôt, remorque, camion, container
multi-secteurs dePUIS plus de 30 ans
Agilité de la production en fonction des contraintes règlementaires
– Réception automatique des palettes et contrôles sans arrêts du cariste
– Vérification automatique des colis sur palette
– Suppression du papier pour les phases administratives du déchargement et de la gestion des quai
– Des systèmes intégrés à chaque configuration : transitique/convoyeur, filmeuse, dans un passage de porte…
– Echanges temps réel avec les différents ERP, WMS , TMS, les applications de SAV, de préparation de commande, d'entrées en stock : Dynamics, SAP, Sage X3, Agrostar ERP interne sous AS400, Infologic, Vif, etc…
– Contrôle qualité en dynamique (DLC, DLUO, Dimensions,…)
– Chargements des palettes et containers sans perte de temps de flashage ni arrêt du cariste
– Contrôle de la qualité des étiquettes et l'état des cartons avant départ
– Supression du papier pour les phases administrative du chargement et de la gestion des quais
– Vérification préalable automatique des colis sur palette
– Automatisation des contrôles qualité
– Formalisation avec preuve multimédia des échanges
– Agilité pour les augmentations de flux dans augmentation forte de la sous-traitance
– Suivi temps réel
– Preuve multimédia pour éradiquer les litiges
– Suivi des Conformités/commandes, contrats dates, retours en dates, DLC, schéma de palettisation
– Diminution des besoin de mètre carré pou préparer des remorques virtuelles
– Optimisation des mètres carrés